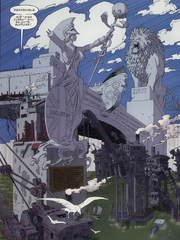 The
Channel Causeway
is a bridge across the English Channel, which would link England and France, stretching from the Cliffs of Dover to France. The idea was first proposed in 1802 to Napoleon I of France. By
1898
it was incomplete and the completion was postponed to
1902
.
It was here where Campion Bond met Mina Murray and from where she went to Cairo with the Nautilus on May 1898.
The Causeway was finally completed on April 1908. But by the early phase of World War II, the Causeway posed a risk in which German forces would cross the bridge and invade England. British military intelligence planned on dynamiting the Causeway along with German infantry and armor columns when they would cross; however, Mina Murray and Allan Quatermain disobeyed that order and destroyed the Causeway sooner in 1941.
By 1969, the remains of the Causeaway has since fallen into disuse.
Mssrs CALKIN & SOWYERS OF DOVER. ENGINEERS TO Her Imperial Highness and builders of the CHANNEL CAUSEWAY regretfully announce a revised completion date of February 1902, owing to Mechanical difficulties. LONG LIVE THE QUEEN.
Community content is available under
CC-BY-SA
unless otherwise noted.