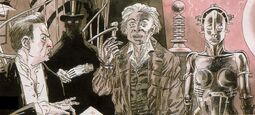 Die Zwielichthelden (German: "The Twilight Heroes") is a German version of the League of Extraordinary Gentlemen. The group was praised by Kaiser Wilhelm II as "meine Zwielicht-Helden."
The group was created early in 1909 by the German government as it planned for World War I. The team consisted of their well organized leader Dr. Mabuse, mesmerist Dr. Caligari, his mind-slave Cesare, and Dr. Rotwang along with his female android Maria. The group's members nakedly planned to further their personal agendas and profit from World War I and its aftermath. Die Zwielichthelden is by considered to be more dangerous than the League or Les Hommes Mystérieux.
Upon learning of the creation of Les Hommes Mystérieux and their knowledge of Germany's conspiracy, Die Zwielichthelden retaliated by manipulating their French counterparts into fighting the English League into believing that their opposing group plot in creating World War I. Doctors Mabuse and Caligari into feeding British and French intelligence with false reports, allowing the German group's ambition to continue without interruptions.
The group was controlled by Adenoid Hynkel during the Second World War. Following the death of Carl Rotwang, the Berlin Metropolis was governed by Dr. Caligari and Maria.
Janni encountered the remnants of Die Zwielichthelden when she visited the Berlin Metropolis during 1941. Mabuse had grown unhappy with the rest of the group and assisted Janni and Jack in destroying them. Maria was destroyed and Caligari killed during that confrontation, and with Rotwang and Cesare having both died some time before; this left Mabuse as the sole surviving member of Die Zwielichthelden. He became an associate of Janni until his death, and is survived by his daughter Ursula.
Community content is available under
CC-BY-SA
unless otherwise noted.