Obi-Wan Finale - The Loop
Play Sound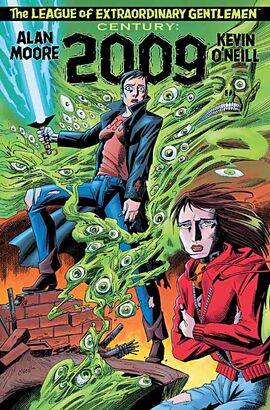 Let It Come Down, also known as Century: 2009, is the third and last chapter of The League of Extraordinary Gentlemen, Volume III: Century.
Plot
[
]
In 2009, the male Orlando is serving in the British Army and stationed in Q'mar. He receives a medal after apparently surviving a massacre, but he privately confesses to a fellow immortal soldier – Colonel Cuckoo – that he actually committed the massacre himself in a moment of violent madness. Returning home to London, which has become a dystopia rife with poverty and depression, Orlando's gender switches to female. Prospero – outraged by the League's continuous failure to stop Oliver Haddo – appears and reveals the Antichrist has already been born, therefore the League only have a limited time to prevent Armageddon. In desperation, Orlando approaches the elderly Emma Night, the current head of MI5, and offers her the secret to immortality in exchange for help finding Mina. After speaking with Night she is briefly reunited with Allan, who has become a homeless drug addict, but he panics and flees before she can talk to him.
Mina is staying in a psychiatric hospital run by the descendants of Rosa Coote, where she is medicated on strong sedatives. Orlando retrieves her from the hospital and takes her off the drugs, and as Mina's memories return she remembers they are due another meeting with Andrew Norton. They try to convince Allan to help them, but he refuses and claims he no longer wants to live a heroic life. When Norton reappears at King's Cross, he guides Mina and Orlando through the hidden Platform 9 3/4, where they find the wreckage of a magical train full of decaying corpses. He explains the train is operated magically and its track leads to the school the Antichrist came from, but he himself is unable to join them. The train travels across Britain's underlying dream realm and stops at the ruins of a school for wizards. As Mina and Orlando search the ruins, flashbacks show the events leading up to the school's destruction. As a baby, the Antichrist (who is heavily implied to be Harry Potter but never referred to by name) was scarred with the mark of the beast on his forehead, and throughout the child's adolescence, Oliver Haddo tried to manipulate him into accepting his destiny by staging a series of adventures set in the school and portraying a nemesis for him to fight. However, the revelation of his true destiny drove the Antichrist insane and he went on a destructive rampage, destroying the school and killing all the staff and pupils. When Mina and Orlando return to London, Prospero urges them to confront the Antichrist and use Excalibur to signal for reinforcements. Meanwhile, Allan buys a gun and prepares to commit suicide, but ultimately decides not to.
The Antichrist is hiding in an invisible house, where he angrily rants at Haddo's severed head, which is still alive. When Mina and Orlando arrive to confront him, he emerges as a giant covered in eyes and begins to trigger the end of the world. As Orlando battles him, Excalibur reacts by summoning a light in the sky, which is seen by everyone in the world. Out at sea, arch-terrorist Jack Nemo (the great-grandson of the original Captain Nemo) sees the light, and deciding to abandon his terrorist actions in Pakistan, he orders his crew to return to Lincoln Island, where a new Nautilus is being constructed. Back in London, Allan arrives to help Mina and Orlando, shooting the Antichrist with a futuristic weapon. However, the Antichrist is unaffected by the blast and shoots a bolt of magical lightning from his penis, which kills Allan. An enigmatic woman resembling Mary Poppins descends from the sky and destroys the Antichrist by transforming him into a chalk drawing on the road, which washes away in the rain. Haddo's head states Armageddon will still happen, but now Mina is destined to initiate it. However, before he can explain further the woman takes him and ascends back into the sky.
Emma Night arrives, accompanied by two women who have left MI5, as she has now. They escort Mina and Orlando to Africa, where Allan's body is buried in an existing grave dating back to when he originally faked his death in 1885. As they depart for the Fire of Youth, Night inquires how an immortal is able to cope with eternal life, and Mina simply tells her one has to keep on living.
Appearances
[
]
Characters
[
]
Antichrist • Ariel • Aslan • Rupert Bear • Bernard Black • Jimmy Bond • Caliban • Belinda Coote • Crash Britanus • Colonel Cuckoo • Arthur Daly • The Doctor • Alex Drake • Ruth Evershed • Grimly Feendish • Argus Filch • Fireclown • Cathy Gale • Jane Gay • Hermione Granger • Worzel Gummidge • Oliver Haddo • Super Hans • Jack Harkness • John Hart • Hedwig • Hook Jaw • Gene Hunt • J1 • J3 • J4 • J5 • J6 • Tara King • Klanky • Graham Linehan • Vesper Lynd • Draco Malfoy • Terry McCann • Minerva McGonagall • Roger Mellie • Miss Moneypennys • Mina Murray • Hiro Nakamura • Jack Nemo • Emma Night • Andrew Norton • Orlando • Aloysius "Nosey" Parker • Sir Henry Pearce • Andy Pipkin • Vicky Pollard • Prospero • Mary Poppins • Allan Quatermain • Raj • Tom Riddle • Rocky • Dave Rudman • Slim Charles • Venus Smith • Severus Snape • Steel Commando • Stringer Bell • Tacarigua • Thomas the Tank Engine • Tiger Tim • Lou Todd • Tom • Swiss Toni • John Tulloch • Ron Weasley • Ken Paul Whitehouse
Mentioned characters
[
]
Idi Amin • Aquaman • Jeffrey Archer • King Arthur • Ayesha • Bartlet • Batman • Big Brother • Bladud • Boadicea • Brutus of Troy • Angelica Button • Captain Universe • Brian Catling • Selwyn Cavor • Vincent Chase • Rosa Belinda Coote • Sir Henry Curtis • Janni Dakkar • Tom Davis • Johnny Depp • George Dixon • Hugo Drummond • Aidan Dun • Dutch Dolls • Johannes Faust • Fraser • Sigmund Freud • Fur-Q • Galley-Wag • Geoffrey of Monmouth • Greystash • Lord Greystoke • Adenoid Hynkel • J2 • Henry Jekyll • Jesus • Tracey Jordan • William King • King Lear • Lud • Nomi Malone • Massive Genius • Andy Millman • James Moriarty • Nemesis the Warlock • Nemo I • Sir John Night • Nipper • Palmer • Alan N. Partridge • Jeff Parker • Quisp • Raboo • Saber • Richard Seymour • Sinbad • Jon Snow • King Solomon • Will Stanton • John Steed • Tantor • Tarna the Jungle Boy • Spooky Tawdry • Terner • Tri-Man • Malcolm Tucker • Umslopogaas • Vull • Joan Warralson • Michael Westen
Locations
[
]
Items
[
]
Groups
[
]
Species
[
]
Events
[
]