Obi-Wan Finale - The Loop
Play Sound

The League of Extraordinary Gentlemen: Black Dossier is a 2007 graphic novel, the third overall book in the comic book series The League of Extraordinary Gentlemen, by Alan Moore and Kevin O'Neill. According to Alan Moore it is "a sort of ingenious sourcebook" which reveals the history of the League of Extraordinary Gentlemen universe, spanning over fiction and mythology from centuries back until the mid-20th century. It is the last League of Extraordinary Gentlemen book, and last comic by Alan Moore in general, to be published by DC Comics, under their America's Best Comics imprint, and later under the Vertigo imprint. 
Black Dossier is split in two parts, moving to and fro between both throughout the book. One part is a comic story in which Mina Murray and Allan Quatermain, now immortal in a dystopic 1950s Britain, steal the legendary Black Dossier from the British Secret Service and try to flee England with it, pursued by the country's three greatest spies. The other part consists of the actual content of the titular document; a series of non-comic pieces, taking the form of prose short stories, letters, maps, guidebooks, magazines and even a lost Shakespeare folio, that give more insight in the history of the League of Extraordinary Gentlemen and the universe they exist in. Also included is a 'Tijuana Bible' and a 3-D section complete with custom glasses.
Designer Bill Oakley, who had helped design the previous League books up to that point, died in the middle of Black Dossier's development. The book is dedicated to his memory. 
Description
[
]
"1950s London: a hotbed of spies and cold-war treachery. Returned after a lengthy absence, two associates of the long-disbanded "Murray-Group" are seeking a top-secret book that details all known facts concerning their extraordinary league, a legendary volume known as the Black Dossier. In an unfamiliar 20th century, can they hope to succeed...or eve to get out of England alive?"
Plot
[
]
Comic
[
]
Unlike earlier volumes, the comic book portions of Black Dossier are not set in the Victorian era; rather, they are set in 1958, after the fall of the Big Brother government. The frame story sees Mina and Allan - now immortal after bathing in the fire of youth from She - on their quest to recover the Black Dossier, which contains the secret history of the now-disbanded League of Extraordinary Gentlemen.
The book starts in a dystopic London at a bar, where British spy James Bond, fresh from his adventures fighting a "yellow peril" attempts to seduce Oodles O'Quim, going as far as to take her directly to the "Ministry of Love", decaying former headquarters of the Big Brother regime. Bond attempts to rape O'Quim, but she subdues him with a brick in her handbag, before her lover arrives. The two reveal themselves as Mina Murray and Allan Quatermain and retrieve what they arrived for - the Black Dossier - before leaving the shamed Bond.
Harry Lime, the new M, hires Bond to hunt down Murray and Quatermain with Emma Night, skilled femme fatale and daughter of the famed industrialist John Night, and Hugo Drummond, an aged, jingoistic spy and paternal uncle of Night. They believe that Murray and Quatermain are heading North. Murray and Quatermain take a detour to Greyfriar's School in Kent which houses the "Thirty-Nine Steps" and was attended by Harold Wharton, a.k.a Big Brother. Billy Bunter, the caretaker and former student, reveals that many British spies were groomed at the school, and that Bob Cherry is Harry Lime. Murray and Quatermain attend a spaceport on their detour (space-travel technology has flourished since the extraterrestrial invasion of Volume II). By coincidence, Bond, Night and Drummond are also attending the spaceport. Bond and Night share a moment of passion despite the violent warnings of a protective Drummond, and the group accidentally stumble upon Murray and Quatermain. Murray and Quatermain escape via a prototype robot-piloted ship and parachute into Scotland, seeking a secluded castle in the countryside, only to be closely pursued by the spies.
The castle is guarded by Galley-Wag, who rescues Murray and Quatermain and prepares them for their voyage. Murray and Quatermain reveal their identities to Drummond and reveal to him that Bond is a trecherous double-agent for the United States, that Dr. No was a hoax manufactured by the Americans and that Bond is the man who killed John Night. After they leave on a magical vessel, Drummond attempts to kill Bond but he is shot by Bond at point-blank range. Bond tells Night that Drummond was murdered by Murray and Quatermain.
Murray, Quatermain and Galley-Wag arrive in the utopian, extradimensional realm of The Blazing World where they reunite with their mutual lover Orlando, who has resumed her female form, and safely hand the Dossier to Prospero.
Other
[
]
As Murray and Quatermain read the dossier, the contents of the dossier interrupt the narrative in different sections. Stories include
"On the Descent of the Gods" (1941): an account of the Gods of the League universe, as written by Oliver Haddo
"The Life of Orlando" (1953): a twenty-five pagecomic strip which tells the entire life of Orlando from his birth in the City of Thebes in 1260 B.C., up to the Second World War told in the style of a 1950s British comic called Trump.
"

FÆRIE'S FORTUNES FOUNDED

" (1620): A faux William Shakespeare play detailing the foundation of the League by Prospero from The Tempest
"

The New Adventures of Fanny Hill

" (1912 edition): An imaginary sequel to John Cleland's Fanny Hillwith full-page illustrations akin to those the Marquis Von Bayros illustrated for the book
"

Gulliver's Travails

" (1794)
"

A True and Faithfull Mappe of Ye Blazing Worlds

" (1695): A picture map of the Blazing World and its location
"

Shadows in the Steam

" (1908)
''

The Nautilus, A Cutaway Schematic

": A cut-away of Nemo's Nautilus Mark II submarine
"A Prospectus of London" (1901)
"

Bullettins from Beyond

" (1899-1913): A series of postcards Mina and Allan sent between the years 1899 and 1913
"

The Sincerest Form of Flattery

" (1909-1924): Profiles of the second 20th century leagues and the group's French and German counterparts.
"

What Oh, Gods of the Abyss

" (1928): A Bertie Wooster and Jeeves prose story involving one of Great Old Ones from the stories of H.P. Lovecraft.
"

When They Sound the Last All Clear

" (1939-1945)
"The Warralson Team" (1946-1947)
"

The Crazy Wide Forever

" (1957): a short story written in the style of Jack Kerouac
"

Director's Summary

" (1957)
Appearances
[
]
Characters
[
]
Ace Hart • Albert Argyle • Ariel • Baggy Pants • Bast • Edmund Blackadder • Blonde Phantom • Jimmy Bond • Violet Elizabeth Bott • Charlie Brown • Billy Bunter • Stan Butler • Caliban • Captain Marvel • Commander Cody • Mrs. Cornelius • Danny • Dan Dare • André Delambre • Digby • Gunga Din • John Drake • Hugo Drummond • Dutch Dolls • Eeyore • Engelbrecht • Frankenstein's Monster • Galley-Wag • Alf Garnett • Goofy • "Grandmother" • Grandpa Potts • Gary Haliday • Fanny Hill • Howard the Duck • Josef Kiss • Koko the Clown • Harry Lime • Linus • Little Mermaid • Little Prince • Lone Ranger • Marsman • Masterman • Masterspy • Mike Mercury • Mitch • Mollie • Moonface • Muffin the mule • Mina Murray • Mysterious Pete • Alfred E. Neuman • Emma Night • Nyarlathotep • Olympia • Orlando • Count Orlok • Peter • Piglet • Plug • Poetry • Pobble • Mary Poppins • Prospero • Professor Popkiss Psammead • Allan Quatermain • Quentin Quelch • Robin Hood • Roger the Robot • Saucepan • Ann Sercomb • Shazam the Wizard • George Smiley • Snow White • Christopher Philip Spry • Christian Szell • Thunderbolt Jaxon • Turan • Harris Tweed • Queen Venus • Jack Walker • Dame Washalot • Winnie the Pooh • Zorro
Mentioned characters
[
]
Arthur Atkinson • Brigitte Bardot • The Bat • Judah Ben-Hur • Gordon Bennett • Blackshirt • Campion Bond • Black Sapper • Harry Blake • Geoffrey Brent • Big Brother • William Brown • Bessie Bunter • Mr. Callendar • Roy Carson • Selwyn Cavor • Bob Cherry • Willie Clark • Titus Cobbett • Samuel Taylor Coleridge • Janni Dakkar • Norma Desmond • George Dixon • The Doctor • Count Dracula • Chester Drawers • Gustave de Windt • Fevvers • Fink-Nottles • Ian Flaming • Greta Garbot • George III • Gloriana I of England • Emmanuel Goldstein • James Grey • Hawley Griffin • Lemuel Gulliver • Richard Hannay • Jeff Hawke • Hercules • Sherlock Holmes • Adenoid Hynkel • Jane • Hank Janson • Henry Jekyll • Jonah • Kim • David Keel • Felix Kennaston • F. Gordon Leiter • Al Lewis • Dr. Lock• Mekon • Toby Meres • Mrs Miggins • Alphonse Moreau • Jet Morgan • James Moriarty • Nemo I • Sir John Night • Julius No • Gerald O'Brien • Sal Paradise • Willam Pitt • Henry Quelch • Don Quixote • Archie Rice • William Shakespeare • Herbert Skimpole • Splash Kirby • Nick Stacy • Janus Stark • Trout • Tros • Annie Walker • Alexander Waverly • Colonel Wharton • Montana Wildhack • Wilson • Jack Wilton • The Winged Avenger
Locations
[
]
Earth

Afghanistan

(mentioned)

Horselberg

(mentioned)

The House on the Borderland

(mentioned)

Jamaica

(mentioned)
Lilliput (mentioned)

Milan

(mentioned)
Meccania (mentioned)
Megapatagonia (mentioned)

Paris

(newspaper)

Russia

(mentioned)
Toyland (mentioned)
United Kingdom

Ambridge

(signal)

Birmingham

Birmingham Spaceport

Birmingham Station

(mentioned)

Borchester

(signal)

Bradgate

(signal)

Brinkley Court

(mentioned)

Buckinghamshire

(mentioned)

Castle Hill Labs

(newspaper)

Fircombe

(signal)

Fulchester

(mentioned)

Kent

Friardale

(newspaper)

Larkin

Mums Plaice

Seaview

St. James College

(mentioned)

Trafalgar Lodge

Knightsbridge

(newspaper)
London

Bash Street

(newspaper)

Bayswater Road

Brookgate

Cleopatra's Needle

Holborn Empire

(mentioned)

Hyde Park

Limehouse (mentioned)

Piccadilly Square

Vauxhall

Manor Farm

(file)

Maplins

(billboard)

Melchester

(mentioned)

Scotland

St. Merryn's Hospital

(file)

Wales

(mentioned)

Westminster Abbey

(mentioned)

United States (mentioned)

New York City

(mentioned)

San Francisco

(mentioned)

Stagman Club

(mentioned)

Vienna

(mentioned)

Venus

(mentioned)
Yuggoth (mentioned)
Organizations
[
]
Anti-Sex League

(mentioned)

Glamcabs

Birnley Fabrics

Night Industries

United Nations

(mentioned)

Outlaws

(newspaper)

Interplanetary Police Patrol
Items
[
]
Iron Fish

(newspaper)

Social Nucleation

The Theory and Practice of Oligarchial Collectivism

Cavorite (mentioned)

Chitty Chitty Bang Bang

Num Yum

Joycamp Harlots

Jelly Result

Tripod (picture)

UK 1

Stagman

Daily Brute

Spider Man From Mars

Flying Dutchman

Nautilus (mentioned)
Species
[
]
Bird-men

Brobdingnagian

(skull)

Fairies

Fish-men

Fly-men

Fly People

Flower Pot Men

Kraken

Lazoons

Lloigor

(mentioned)

Louse-men

(mentioned)
Molluscs (mentioned)
Treens (mask)

Worm-men

(mentioned)
Controversy
[
]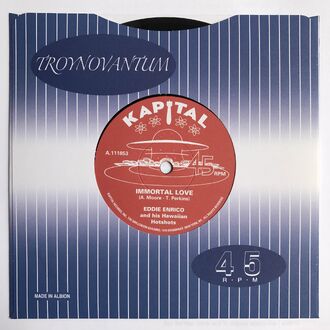 Alan Moore had recorded a song for a vinyl record to be included in The League of Extraordinary Gentlemen: Black Dossier. However, this was not ultimately included in the first editions of the book. Publishers claimed it would be in the Absolute Edition release, but was not included. It is assumed that DC Comics did not include the record due to concerns that the record was too similar to copyrighted material.
The record was eventually released In 2012, when Black Dossier was finally released in the UK. In a release exclusive to the London-based comic book shop Gosh Comics, the vinyl record was included. The release is extremely rare, being limited to one copy per person, and sold exclusively in-store at Gosh in Soho, London. The record is written and performed by Alan Moore and Tim Perkins, under the name Eddie Enrico and his Haiwaiian Hotshots, and features the tracks 'Home With You' and 'Immortal Love'. 
The book was not officially released outside the United States because of what DC perceived as "international copyright concerns and related issues", though the book has nonetheless become easily available in the United Kingdom and elsewhere. These incidents were instrumental in Alan Moore's decision to cut all his ties with DC Comics; also to blame were controversies involving falsely-alleged endorsement of the V for Vendetta film adaptation, which Moore in fact wanted nothing to do with, and dispute over the ownership rights of Watchmen. He and O'Neill subsequently released all further titles with Top Shelf Productions and Knockabout Comics, Moore tying up his works for America's Best Comics such as Promethea and Tom Strong.
Alan Moore had famously been one of the comic book writers of the 1980s who helped elevate DC Comics into public attention, popularizing the comic book Swamp Thing and co-creating V for Vendetta and Watchmen, the former two of which have been collected under DC's Vertigo imprint. DC have since tried to mend their relationship with Moore, even once offering him the rights of Watchmen in 2010 (he declined, resulting in DC's controversial Before Watchmen miniseries, which Moore openly opposed), but since Black Dossier Moore and O'Neill have had no direct association with DC. DC still own publishing rights of The League of Extraordinary Gentlemen volumes 1, 2 and Black Dossier. Some DC/Wildstorm publications have attempted to emulate The League of Extraordinary Gentlemen's initial style, such as Victorian Undead: Sherlock Holmes vs. Zombies.